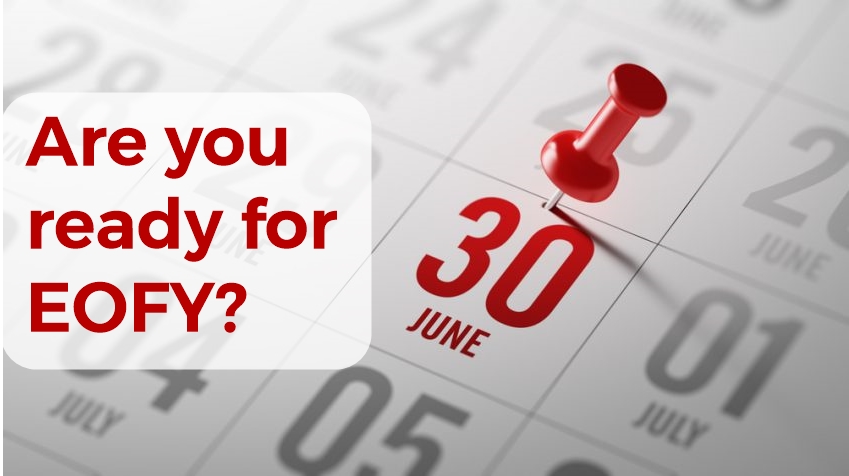 End of Financial Year
As the end of the financial year once again approaches… or passes us by (where did the last year go?), you will be making preparations to complete your tax.
We will guide you through where to locate any missing pieces you may need for your records and tax assessment.
Accessing Statements on your Owner Portal
Owners can view, download or print current and historical statements, attached bills and general scanned documents.
Statements and tenancy documents are located in the Documents section. If you are unable to find the statement required, please ensure you click 'Show more documents'.
Statements can be viewed and downloaded as a PDF, as well as paid bills/invoices for that statement period.
EOFY Statements are available for download also and show as 'Financial Summary'.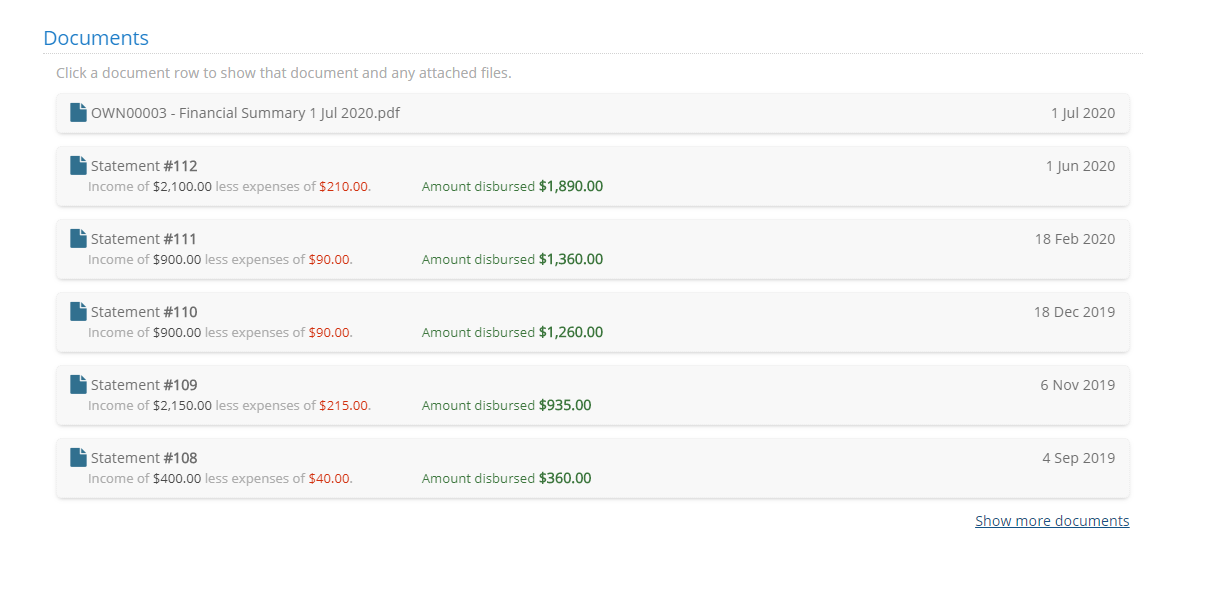 When selecting a Statement, the a new window will open giving you the option to print or download. Statements that have invoices that were paid during that statement period will have them attached at the bottom of the window.
Below image is an example of the Statement window with the additional ?attachment in the bottom grey panel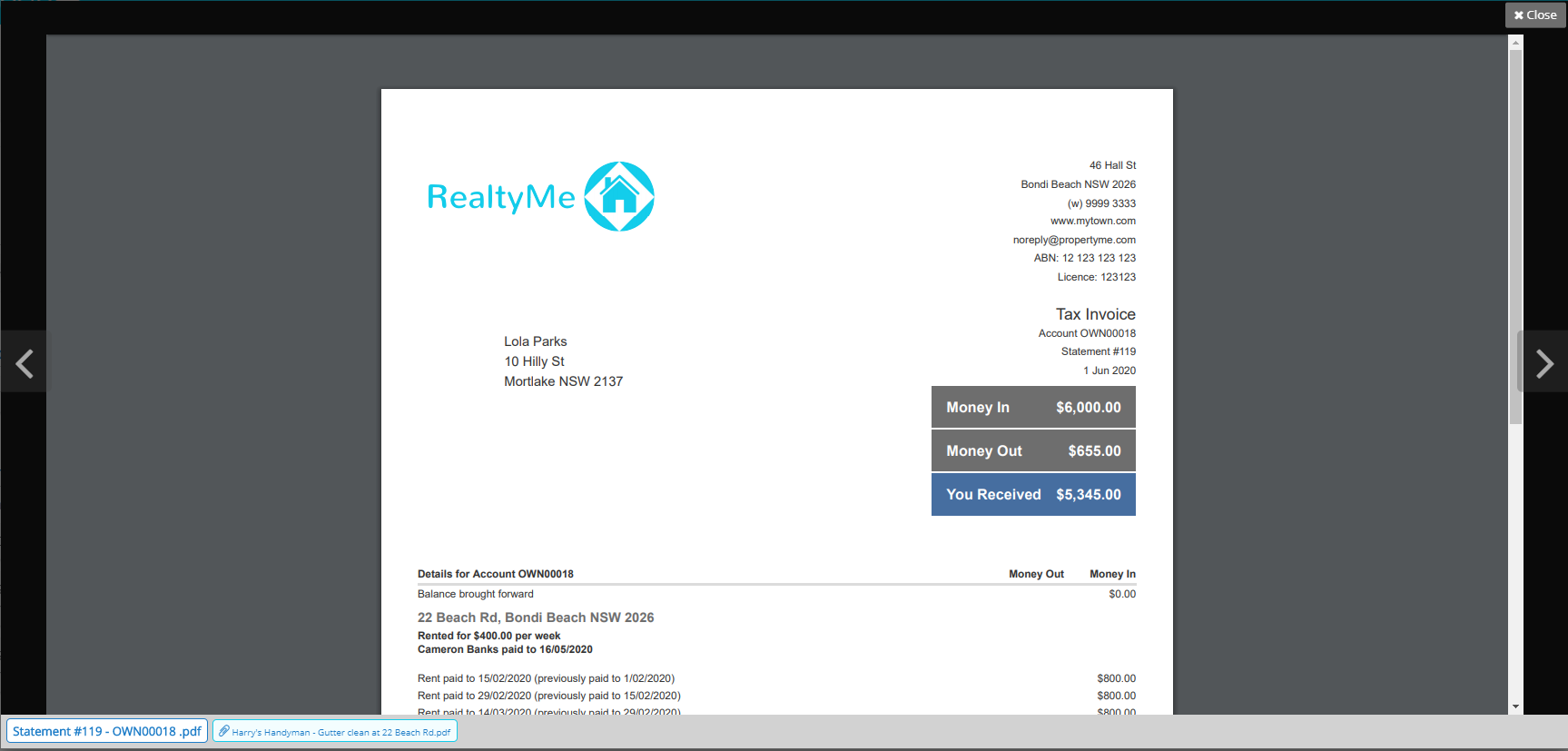 EOFY Statements (Financial Summary Reports)
Financial Summary Reports can be created and sent at any time of year. However, they are more widely used at the end of a Financial Year when Owner's are looking for the break down of income and expenses for each property.
The financial summary report groups the income and expenses of each property by Account. Then, presents it in an easy to read format.
There are two ways to outline transactions on your financial summary statements, it's either by transaction date or statement date method. Meraki Property Management have elected to use Statement Date Method.
Transaction Date
This method will include any transaction that fits within the selected date range.
Transaction date is the more commonly used way of reporting. It will include all transactions that fall into the selected date range.
If you choose the 1/7/2018 to the 30/6/2019 then all transactions that have happened between those dates will be included. See image below.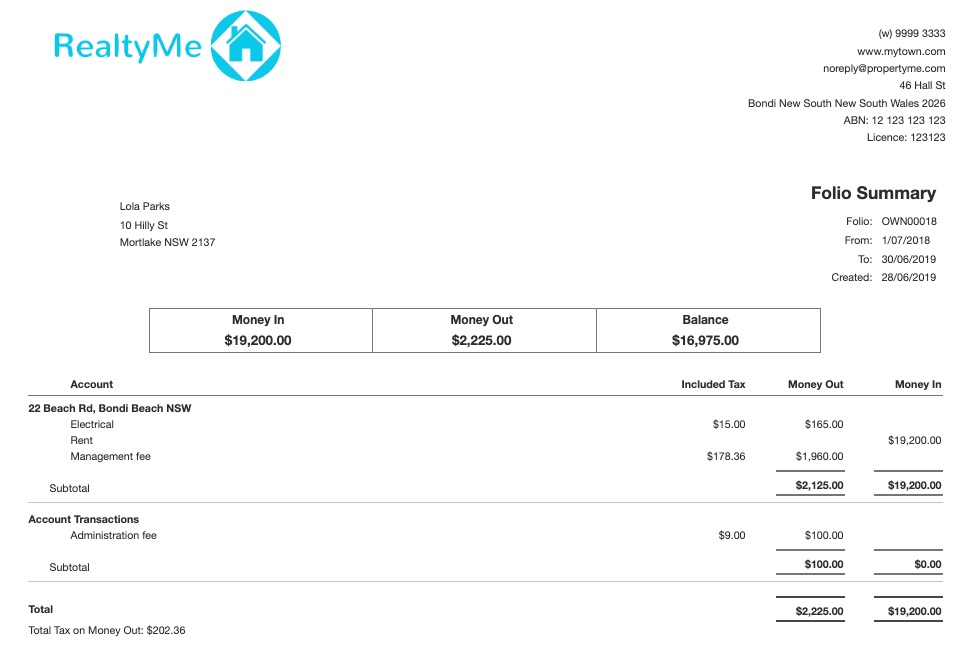 Pros

– Includes all transactions that occurred between the dates ranges 1/7 to 30/6

Cons

– Generally will not match the statements to your owners as there are almost always transactions before or after an owner disbursement that don't exactly fit into the date range of 1/7 to 30/6.
Statement Date
The Statement Date method will include all transactions on the statements for the selected date range.
It is not concerned about the date of the individual transaction, it is looking for the date the statement was generated.
Generating reports this way will match your folio summary reports exactly to the totals on your owner statements.
When you select to group them 'By Statement' in Options, they will appear by statement order and broken down that way. See image below.
Pros

– Matches the folio summary exactly to the transactions you have paid to your owners

Cons

– Can include transactions from a previous financial year, or transactions entered in the new financial year if they were entered before your owner was disbursed.