Rent
If there is one piece of advice we can offer you as a property management agency, it is PAY YOUR RENT ON TIME.
Paying your rent is the first most important requirement of your tenancy.
Failing to pay your rent on time is a breach of your agreement and can cause difficulties in the future when searching for a rental property, as you will be considered a high risk tenant.
Here, we will discuss everything rent related to help ensure that you understand the importance of paying your rent on time.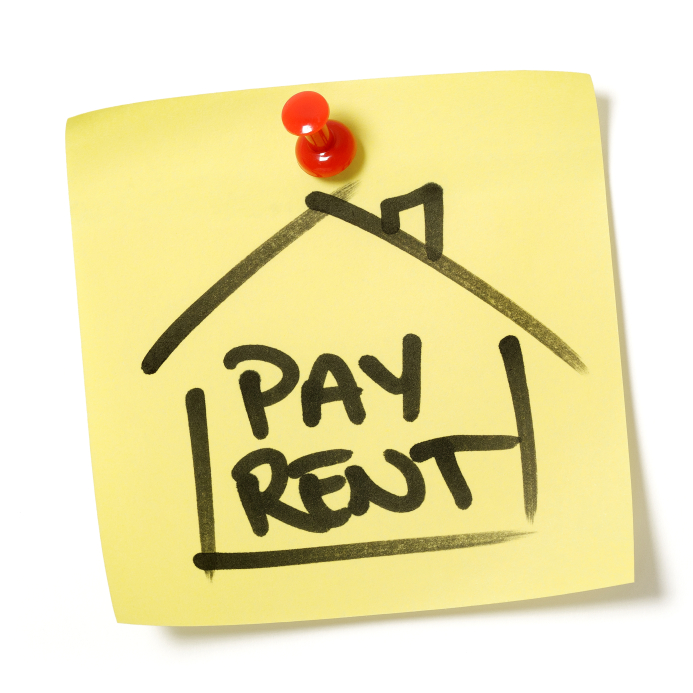 Understanding your obligations
A Residential Tenancy Agreement is a legal contractual arrangement between you and our client. There are certain obligations on both parties, however your rental payments are one of your main obligations.
When applying for rental properties, it is required that you provide evidence of your rental history and ability to pay rent. A copy of your tenant ledger will be requested by the next managing agent or landlord.
Constant arrears depicted on your ledger may cause difficulty in the future for obtaining a rental property, as it shows that you are constantly in breach of your agreement and are unable to meet your tenant obligations, such as paying your rent on time. This is considered a high risk tenant.
Understanding how rent is receipted
Rent is paid into a Queensland Real Estate Trust Account, which is audited regularly in accordance with Agents Financial Administration Act.
The trust account is reconciled daily, however it is for the previous business day as it requires the total amount for the entire day; as transactions come in constantly during the day.
Trust Accounting Software for rental properties uses 2 methods for calculating your rent arrears:
Paid to Date – Weekly Rent Amount
Effective Paid to Date – Daily Rent Amount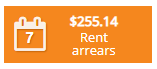 Your Paid to Date is calculated on receipt of a full week's rent amount. The above tenant is paid to 07/10/2018 with a credit of $122.00. This means that the tenant has paid an odd amount of $122.00, which the system is not able to allocate to the paid to date, as it requires the full weekly rent amount of $240.00 towards the Paid to Date.
If this tenant was to take their weekly rent amount and subtract the current credit ($240 – $122.00 = $118.00) and pay the gap of $118.00, their paid to date will move forward a week to 14/10/2018 and have no part paid (credit) on their file.
However, as Rent Arrears is calculated with Daily Rent Amount, the credit is taken into consideration and their current rent arrears is only 7 days. The Paid to Date plus the Part Paid amount is also known as the Effective Paid to Date.
Days In Arrears
Action Taken
3+
Courtesy SMS
8+
Form 11 – Notice to Remedy Breach will be issued for Rent Arrears, giving 7 days to remedy breach and pay all necessary rent arrears.
12+
Follow up Phone Call and/or SMS
15+
Form 12 – Notice to Leave will be issued for Unremmedied Breach for Rent Arrears, giving 7 days to vacate the premises. Please Note: This terminates the tenancy and vacant possession is required by the expiry of the notice.
22+
The tenant is required to hand over vacant possession to the Agent on or before the expiry of the Notice.

Where the Tenant fails to do so, the Agent will make an Urgent Application to QCAT (Queensland Civil and Administrative Tribunal) for termination and a Warrant of Possession.
Rent Arrears Procedure
Meraki Property Management has a ZERO Tolerance Policy towards rent arrears and follows a strict rent arrears procedure, in accordance with the Residential Tenancies and Rooming Accommodation Act 2008.
This is to ensure effective management of arrears and to protect the Lessor's investment. Our number one job is to ensure that Tenants are meeting their obligations.
We also advise that our office is a member of TICA Default Tenancy Control Pty Ltd and Barclay MIS, which are tenant databases uniting property managers throughout Australasia.
As a member, we are obliged to report any defaults to TICA and Barclay MIS as soon as possible in accordance with State and Federal legislation.
Should a tenant appear on the TICA database, they may find difficulties in relocation as TICA has a large membership base.
It is important that you communicate with us so we can advise you on the best steps to take towards getting back on track with your rental payments.
Download: Rent Arrears Procedure
How to fix your arrears
On your tenant portal, you will be able to access your rental history (rent receipts and tenant ledger) to see where your rent is paid to.
Your paid to date and credit (part paid) will be displayed on the first page of your tenant portal and looks similar to the image to the right.
If you fall into financial hardship and are unable to rectify your arrears in full, we recommend paying your weekly rent as a minimum, with an additional payment of 1-2 days rent each week.
Please Note: Paying your weekly rent + 1 day will take approx 7 weeks to get back on track, and a further 7 weeks to get 1 week in advance. The rent arrears procedure will continue to be followed during this time.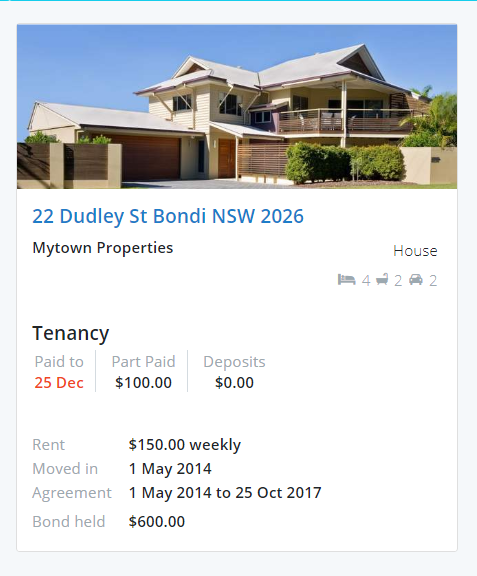 Your daily rent can be calculated using the following formula. Below is an example of what the weekly rent +1 or +2 days would look like.
Weekly Rent Amount ÷ 7 days = Daily Rent Amount
| Rent | $200 | $224 | $232 | $240 | $248 | $256 | $260 | $280 |
| --- | --- | --- | --- | --- | --- | --- | --- | --- |
| Daily Rent | $28.57 | $32.00 | $33.14 | $34.29 | $35.43 | $36.57 | $37.14 | $40.00 |
| Rent +1 Day | $228.57 | $256.00 | $265.14 | $274.29 | $283.43 | $292.57 | $297.14 | $320.00 |
|  Rent +2 Days | $257.14 | $288.00 | $298.29 | $308.57 | $318.86 | $329.14 | $334.29 | $360.00 |
Repeated Breaches
In accordance with the Residential Tenancies and Rooming Accommodation Act 2008, the Lessor can apply to Tribunal for termination of the tenancy for repeated breaches by the tenant.
299 Application by lessor for termination for repeated breaches by tenant
(1) This section applies if—
(a) the lessor gives 2 notices to remedy breach to the tenant for breaches of a particular provision in relation to the agreement; and
(b) each notice relates to a separate breach of the particular provision; and
(c) the tenant remedies each breach within the relevant allowed remedy period; and
(d) the tenant commits a further breach of the particular provision after the breaches mentioned in paragraph (a); and
(e) all breaches happen within the period prescribed under a regulation for this section.
(2) The lessor may apply to a tribunal for a termination order.
(3) An application under this section is called an application made because of repeated breaches.
(4) In this section— provision means—
(a) section 184 (Tenant's use of premises); or
(b) section 188 (Tenant's obligations generally); or
(c) section 189 (Tenant's obligations for facilities in moveable dwelling parks); or
(d) section 190 (Tenant's obligations for moveable dwelling site); or
(e) a provision of a section mentioned in paragraphs (a) to (d); or
(f) a provision of an agreement providing for the payment of rent.